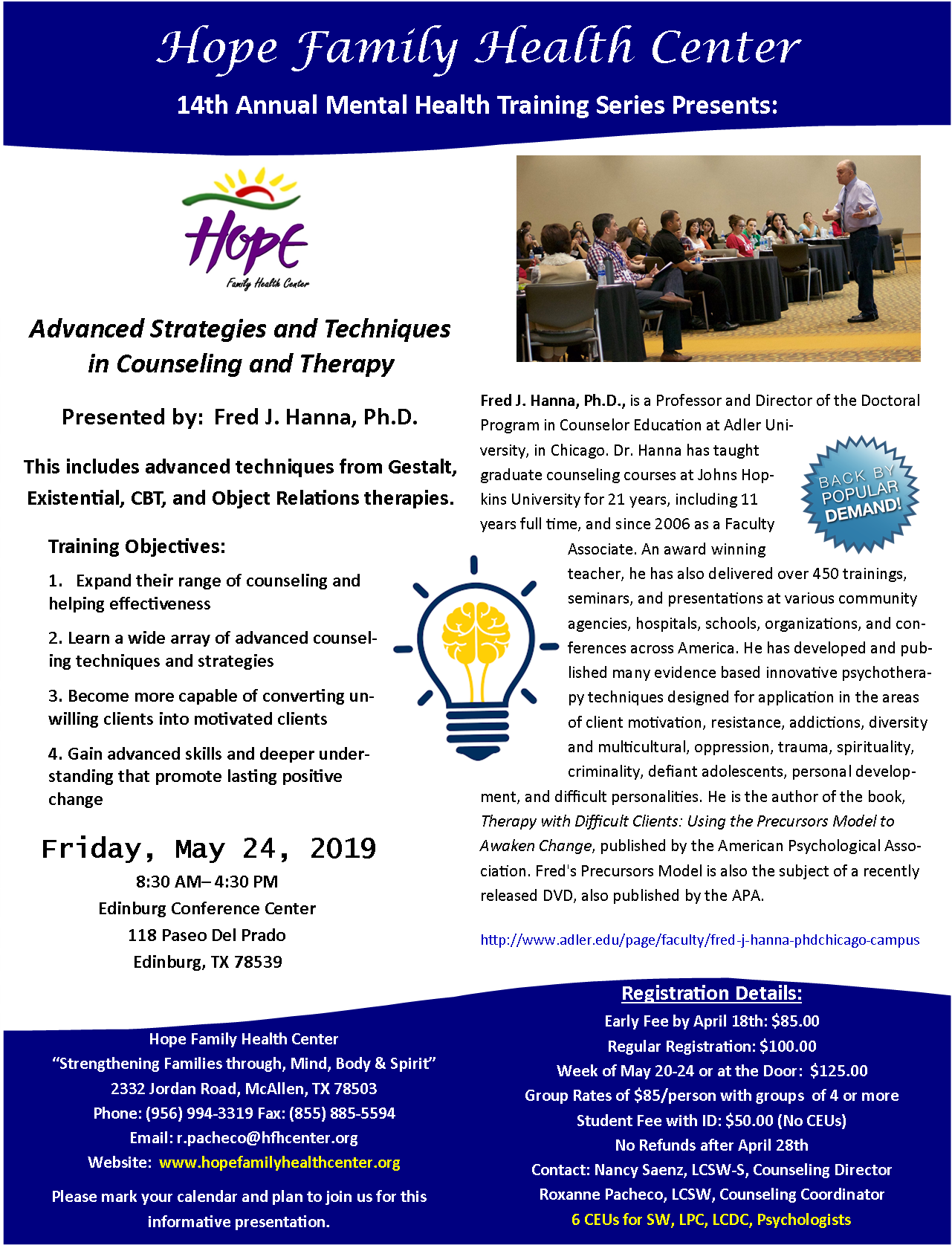 HOPE Con (Annual Mental Health Training)
14th Annual Mental Health Training Series Presents: Advanced Strategies and Techniques in Counseling and Therapy, Presented by: Fred J. Hanna, Ph.D
Friday, May 24, 2019 | 8:30 AM- 4:30 PM 
Address: 118 Paseo Del Prado, Edinburg, TX 78539
Hope Family Health Center is committed to providing Continuing Education opportunities to Professionals in the Community.  We pride ourselves in sharing with other mental health professionals innovative ideas on how to promote physical, emotional and spiritual health in working with their clients. 
In 2017, we had the honor of hosting "From Resistance to Resilience:  25 Techniques for Motivation and Positive Change" presented by Fred J. Hanna, Ph. D. at our 11th Annual Mental Health Training. Over One hundred and forty mental health professionals had the opportunity to gain knowledge & Intervention Techniques  from a dynamic speaker. There is no doubt that acquired skills and interventions will  be applied to any Mental Health setting including Schools, Private Practice, Hospice, Hospital, Juvenile & Adult Probation, among many others.   
This year, by popular demand we have invited Fred J. Hanna, Ph. D to our 14th Annual Mental Health Training to present on Advanced Strategies and Techniques in Counseling and Therapy. This includes advanced techniques from Gestalt, Existential, CBT, and Object Relations therapies. We had had very positive feedback from our regular and new attendees. We invite you to allow our annual training be an event you and a colleague can experience, learn and network with other professionals in the valley promoting mental health in the Rio Grande Valley. The training not only provides the attendees the convenience of learning, but to stay close their work/home. Our attendees have expressed the convenience of this venue and we would like to see you there next year.
---
Location
2018 HOPE's Annual Mental Health Training (HOPE Con)  was hosted in Edinburg Conference Center at 118 Paseo Del Prado, Edinburg, TX 78539. This venue offered large projected screens, a main stage, and approximately 3,100, a precise sound system, and adjustable lighting to comfort the attendees.
---
Evaluation
Hope Family Health Center received excellent Evaluations which consistently shared a similar theme:  "Excellent Presenter-Relevant, Usable Techniques.  Presenter was awesome-great delivery of information. Genuine and Effective."
---
Registration Details
Early Bird Fee (by April 18th): $85.00
Late Fee: $100.00
Student Fee with ID: $50.00 (No CEUs)
Week of May 20- 24 or at the Door: $125.00
Groups Specials: $85/person with groups over 4
NO REFUNDS after April 28th
For eligibility please contact Roxanne Pacheco or Nancy Saenz at (956) 994-3319 or email r.pacheco@hfhcenter.org for Registration Form and pricing.
Tickets are available to be paid later at door -day of event. Please make sure to register!
---
Next Year
Make sure to leave your feedback at the end of the training in order for us to identify a more convenient, creative and collaborative learning environment for our 15th Annual Mental Health Training. We take pride in being motivated and challenged to plan for a success event for our mental health professionals and attendees.