What are Peer Support Services?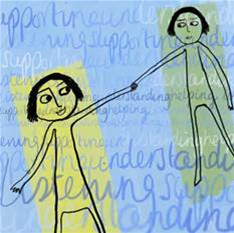 Peer Support Services provide an opportunity for people who have achieved significant recovery to assist others in their recovery journeys. It is based on people helping and supporting each other as equals, sharing their personal stories, discovering, learning and growing together with a main goal of finding a new sense of self, meaning, value and purpose in life.
Principles of Peer Support:
Solidarity
Synergy
Sharing with Safety and Trust
Companionship
Hopefulness
Focus on Strengths and Potential
Being Yourself
Respect
Benefits of Peer Support Services:
Community
Increased Self-Confidence
The Development and Sharing of Skills
Improved Mental Health and Well-Being
For more information about Peer Support, please contact Elsa Roman at (956) 994-3319 or email e.roman@hfhcenter.org.